November 2021 TheShift e-newsletter
LCA in Textiles & Agriculture | Higg MSI Journal Article | ACLCA Poster Winners | Upcoming Training
How LCA Benefits Innovation in the Textile Industry: Three Case Studies

The trillion-dollar global textile industry reaches virtually every person on the planet, through apparel, household goods, industrial products, and other avenues. Textile production's scale and scope place it at the center of many environmental and social sustainability discussions.
Several collective industry-wide efforts are seeking to address concerns including carbon emissions, water scarcity, responsible material sourcing, microplastics, fair labor, deforestation, waste minimization, and increased use of post-consumer materials. Innovative companies are developing new approaches that can reduce impact in these and other areas. A common theme uniting these wide-ranging efforts is the importance of Life Cycle Assessment (LCA) as a means of identifying the greatest impacts and the most effective solutions.

We review LCA's role in supporting sustainability work at three textile-oriented organizations of different scales and with different priorities: a startup materials company, a midsized manufacturing company, and the non-profit research and promotion organization for the cotton industry.

Read More
---
Evaluating Alternative Environmental Decision Support Matrices for Future Higg MSI Scenario
- The International Journal of Life Cycle Assessment
Authors: Valentina Prado, Jesse Daystar, Michele Wallace, Steven Pires, Lise Laurin
The Higg MSI is a widely used platform for the textiles and apparel industry in the support of their environmental sustainability strategies. While it provides important life cycle information, it can be difficult to interpret. Aggregated into an index as it used to be, or fragmented as of 2021, both can lead users to inefficient decision making. This article studies the problem of tradeoffs in the Higg MSI and provides recommendations going forward.

---
Congratulations to the Winners of the 2021 ACLCA Student Poster Contest!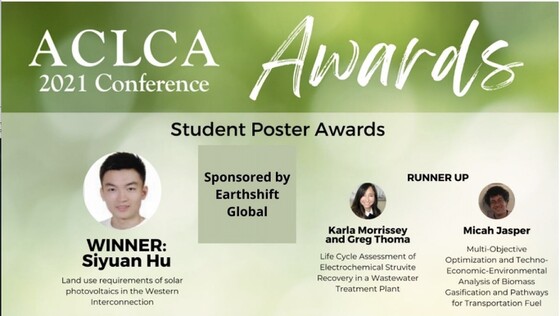 ---
Upcoming Online Training
November 9-10, 2021
Contact us to discuss training customized to your needs

Learn More about These and Other Courses