Brown Bag Webinars
Free webinars on LCA and sustainability topics
EarthShift Global is pleased to announce a series of free sustainability 'Brown Bag' webinars. These webinars covering a wide range of topics and are delivered by leaders in their respective fields. Each webinar is held from 1-2 PM Eastern time with a presentation followed by a Q&A Session.

Register for upcoming webinar
Access recordings of prior webinars on the EarthShift Global Official YouTube channel.
Do you have suggestions for future webinar topics? Please submit them here: https://www.surveymonkey.com/r...
---
Upcoming Webinars:
"Advancing SMART Futures for Global Sustainability"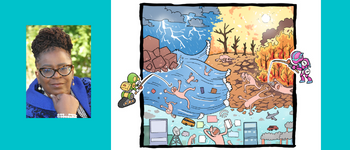 Date: August 25, 2022
Time: 1:00pm - 2:00pm ET
Presenter: Dr. Claire Nelson
Description:
We know we have to change but the question is, how? Many of us feel powerless to solve the looming climate crisis, water crisis, food crisis, ocean pollution crisis and all other challenges that are enumerated by the 17 global sustainable development goals. How do we get to a safe, just space for humanity? If we can build Smart cars, clothes, houses, cities and so on can we find a way to create smart futures? In the talk "Advancing SMART Futures for a Flourishing World", Dr. Claire A. Nelson helps us see glimpses of our aspirational futures, and lays out a map for our journey to global sustainability.
Presenter Bio:
Dr. Claire Nelson, a member of EarthShift Global's technical advisory board, is Chief Ideation Leader of The Futures Forum, a research and education practice specializing in bringing the power of strategic foresight, and the discipline of sustainability engineering to challenges facing organizations and communities. Nelson, named by Forbes as one of the top 50 female futurists in the world, is author of the game-changing book "SMART Futures for a Flourishing World: A Paradigm for Advancing Global Sustainability".