July 2022 TheShift e-newsletter
LCA & Plastics | Free Webinars | Welcome Bryton | LCA Training Boot Camp
Upcoming Webinars on Plastic & Getting to Net Zero



Five Misperceptions Surrounding the Environmental Impacts of Single-Use Plastic


Date: July 28, 2022
Time: 1:00pm - 2:00pm ET
Description:
Plastic is everywhere. Large amounts of energy and fossil resources are required to produce the massive quantities of plastic we consume every year, while improperly disposed plastic waste can contribute to damage of sensitive ecosystems. There is much that can and should be done to promote a circular plastics economy and reduce plastic's overall impact. Nevertheless, it is possible for well-intended solutions to create unintended consequences, exacerbating other environmental issues while attempting to minimize the impact of plastic. This talk will explore five commonly held perceptions that do not correspond with life cycle studies and discuss the importance of taking a holistic life cycle approach to future efforts to address the environmental impacts of plastic. The talk will present evidence and discuss the nuances of the following statements:
Plastic packaging is (NOT) the largest contributor to a product's environmental impact.
The environmental impacts of plastics are (NOT) greater than all other packaging materials.
Reusable products are (NOT) always better than single-use plastics.
Recycling and composting should (NOT) be our highest priority.
"Zero waste" efforts that eliminate single-use plastics (DO NOT) minimize the environmental impacts of an event.
Presenter Bio:
Shelie Miller is the Jonathan W. Bukley Collegiate Professor in Sustainable Systems at the School for Environment and Sustainability at the University of Michigan. An environmental engineer by training, Miller's research is highly interdisciplinary, with a focus on life cycle assessment and systems analysis of emerging products. Her research has been featured by various media outlets, including NPR, TIME, the BBC, Forbes, Consumer Reports, and The Guardian.
For more information and to Register, click here.

---

Date: July 21, 2022
Time: 1:00pm - 2:00pm ADT/ 12:00pm - 1:00pm ET
Presenter: Nathan Ayer, EarthShift Global Senior Sustainability Advisor
Description:

Life cycle thinking has a critical role to play in the transition to net zero emissions by ensuring that measures taken to reduce GHG emissions are effective. In this webinar, life cycle assessment (LCA) practitioner, Nathan Ayer from EarthShift Global, will share examples of where the application of life cycle thinking will be particularly important: 1) evaluating the GHG emissions of decarbonization measures that rely on fuel switching, 2) characterizing the GHG reduction potential of emerging technologies, such as carbon capture and storage, 3) ensuring quality criteria and proper accounting rules for carbon offset programs, and 4) characterizing the multi-dimensional environmental impacts of decarbonization measures.
This webinar is sponsored by Net Zero Atlantic.
---
Bryton Moeller brings Human-Centered Design Skills to the EarthShift Global Team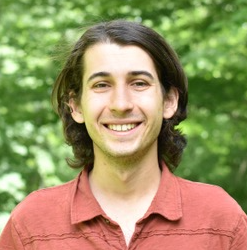 As part of our ongoing efforts to develop new life cycle assessment (LCA) capabilities for our clients, EarthShift Global is happy to welcome Bryton Moeller to our team as UX Designer. Bryton interned with us while earning a bachelor's degree in Design and Engineering from Dartmouth College and will be focused on making the LCA process more efficient and effective through development of custom tools for ESG clients and refinement of ESG's software.
---
LCA Bootcamp Training
Looking for an in-depth introduction to LCA? We're thrilled to again offer our highly rated Sustainability Boot Camp. Taught by ESG CEO Lise Laurin and other experienced LCA and sustainability experts, the Sustainability Boot Camp includes three separate courses taught over three days onsite in Portsmouth, NH.
Introduction to Life Cycle Assessment
Methods for Evaluating the Social and Economic Pillars of Sustainability
Integrating Sustainability into the Organization
You can register for one, two, or all three courses. Don't miss this excellent opportunity to develop your LCA skills and knowledge.
Course Format: Onsite, Portsmouth, NH

Course Duration: 6 hours per day
Prerequisites: None
Dates: September 20-22, 2022