Anticipatory LCA
Valuable Tool for R&D and Emerging Technologies
If you're involved in product development and design, or any type of research and development work, you know how important it is to think ahead. It prepares us and our organizations to take full advantage of emerging opportunities. As much as 80% of a product's environmental and social impacts are determined at the ideation and design stage; Anticipatory LCA (A-LCA) is a valuable guide in designing products for sustainability.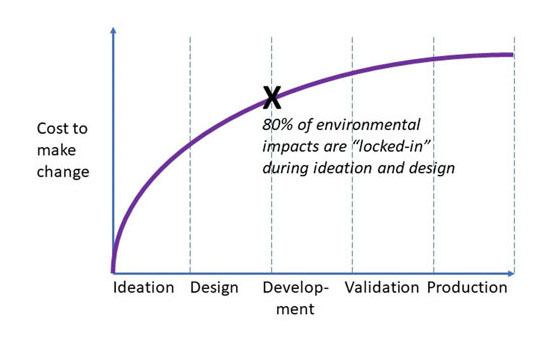 Figure 1: Illustration of environmental impact and product development stages [Adapted from: http://ec.europa.eu/energy/efficiency/ecodesign/eco_design_en.htm]

At first glance you might feel that it's difficult to apply LCA before a product is in production, but A-LCA is a well-defined approach that allows much earlier assessment. It applies concepts such as Dynamic LCA to look at scale-up potential and underspecification to consider multiple materials that might be used in a specific application, while also providing tools to consider impacts of new materials and chemicals. As a result, it can inform and improve the work of entire R&D groups.
The goal is to integrate environmental criteria into the technology development process in a way that anticipates foreseeable negative consequences, identifies opportunities for improving the environmental profile of emerging technologies, and communicates findings to R&D decision-makers in time to reorient research.

We have seen firsthand, through the application of A-LCA in our consulting practice, that it can result in more efficient R&D efforts, lower-impact products, and even new business models.
And best of all, A-LCA provides tremendous leverage for the lowest-cost impact reduction through DfS. On a basic level, DfS is really just a form of good design engineering. We've helped a number of organizations apply LCA results during a product's early design stages (or redesign process), and see how it can not only eliminate potential environmental or social hotspots but also help clarify the product's essential function and purpose, in the process of defining its functional unit.
For example, we helped a startup company developing a biodegradable plastic material refine their lab-level production process for cost, manufacturability, supply chain stability, and other engineering criteria, including environmental footprint, at the pilot scale.
By comparing the lab process flow with available data from conventional non-biodegradable material used in the target application, we were able to propose several processes and source material changes for consideration during scale-up, with a goal of reducing the significantly higher impacts seen in the initial lab-scale process.
Through a combined set of improvement strategies, it was possible to reach an equivalency to the conventional material with the added property of biodegradability and create a strategy for advancing the project. Moreover, additional process efficiencies have been realized in chemical inputs, utility requirements, and waste by-products, which are expected to substantially improve the new product's performance relative to conventional materials.
We've also seen powerful results with larger enterprises. We helped our client OTR Wheel-Green Carbon during the early development of their self-sustaining tire recycling system, helping them see where the process could be improved from an environmental issues standpoint—specifically, getting rid of the fuel required to initiate the process. They incorporated those learnings into their development process, resulting in a robust recycling system that requires no external energy.
Our partnership on 3D printing technology with Fortune 500 company HP initially prompted near-term refinements, like energy-conserving design changes in 3D printers. But our A-LCA findings on how 3D-printed parts could extend the lifetimes of various products also led to a broad rethinking of HP's approach to other business lines, and the realization that selling managed services rather than hardware products to enterprise customers could cut impacts while also improving performance and cutting end-user costs.
Related Articles
Using Anticipatory LCA in Consulting: Bringing Insights to Innovation (Blog)
Anticipatory LCA: Smarter R&D Without Pain (Blog)
Interested in more information about our Anticipatory LCA solutions?
Please call +1 (207) 608-6228, contact us by email for a personal consultation, or use our consulting services inquiry form.