Using Sustainability to Prompt Out of the Box Thinking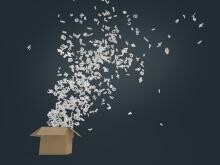 While a few people have suggested that Sustainability is the new mother of invention, most have focused on innovation based on new raw materials. What we've found, however, is that the process of understanding the sustainability of your existing product or service can drive serious innovation that goes beyond new products to new ways of thinking about how the product is used, how it is manufactured, and even new business models. At EarthShift Global, we believe innovation potential is the greatest return on investment a sustainability program can provide a company.

Let's start with the functional unit at the basis of all Life Cycle Assessment. Forcing a company to boil a product down to the function it provides a customer makes the company look at that product in a new way. For example, considering carpet as something like:
1 m2 of fashionable floor covering that provides softness underfoot and sound deadening for a period of 8 years.
Resulted in Interface developing a new business model leasing carpet which they provide in tile format so that individual tiles can be replaced when worn or outdated. Imagine what kind of innovation could occur around "keeping food cold and protected for a period of up to two weeks" for a refrigerator manufacturer or "an hour of fun" for a toy manufacturer.

Understanding the impacts of service life and end of life treatment on the environment presents another opportunity for innovation. Caterpillar discovered that not only was remanufacturing good for the environment, it was good for business, too. As companies look for ways to reuse their products at end of life they find ways to use those products in their own and other's manufacturing processes. And sometimes these secondary applications actually lead to new markets for existing products. In a previous blog about the 2015 BSR conference, I mentioned that attendees overwhelmingly thought that the next great breakthrough in their industry would be from an existing company in another industry.

And many of the techniques used to reduce material and energy consumption in manufacturing actually result in better processes. The process intensification method used in chemical processing can be extended to other types of processing to reduce processing time and labor in addition to material and energy efficiency improvements.

And striving for better social sustainability gets you thinking beyond your fenceline. I've spoken previously about Dow Chemical and their goals to solve the world's greatest problems. These goals came out of discussions with Dow's stakeholders—the first step in true social sustainability assessment.

If your company isn't looking into sustainability assessment and how it can spur innovation, it could be missing the boat. Now is a great time to start that discussion with your management. To learn more about getting a seat at the Executive table, check out Day 5 of our Sustainability Boot Camp coming up March 7-10.