Tess Konnovitch Expands ESG Data Visualization Capabilities
Brings Extensive Background in Scientific Research, Teaching, Art, and Design
Better visualization of data-intensive LCAs and other studies will help uncover insights and present them to the widest range of audiences
Life Cycle Assessment (LCA) and other methods for analyzing sustainability are data intensive. Effective visualization of that data can help uncover insights and convey them to broad audiences, which is why EarthShift Global is excited to welcome Data Visualization Specialist Tess Konnovitch to our team.
Tess's background includes extensive laboratory, computational, and field work while earning BS degrees in Biology and Environmental Science from LaSalle University and an MS in Computational and Integrative Biology from Rutgers University. She's also a longtime artist and designer.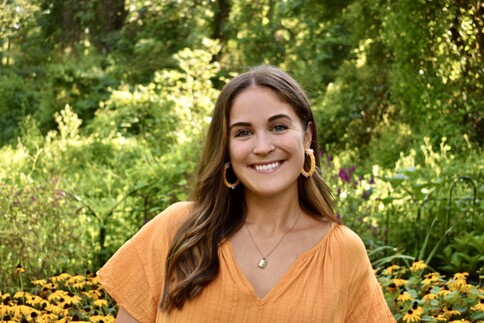 "That's why I gravitated towards data visualization in graduate school," she says. "My favorite part of research was analyzing the data, determining the best way to visualize it, and then making the figures comprehensible for a variety of audiences and aesthetically pleasing."
In addition to supporting the client-oriented consulting work of EarthShift Global's sustainability analysts, Tess will be part of our software development team, which also recently added user experience designer Bryton Moeller.
"Data visualization is an important, but often overlooked, aspect of scientific research," notes Tess. "How we display data plays a pivotal role in interpretation and understanding. It serves as the bridge between the scientific community and people who need clear and reliable data —decision-makers, policy developers, and the general public. Thoughtful data visualization can make the important insights of analyses like LCA accessible and usable for more people and more situations."
In her research and teaching roles as a graduate student, and as a professional STEM tutor, Tess has found that incorporating visualization can significantly improve understanding and accelerate the learning process. "One of the most common phrases I've heard in my STEM tutoring, teaching, and mentoring experiences is 'I'm just not good at science,'" she says. "In my experience, this is never true! Most people, whether they're students, managers, policymakers, or whatever, just need the right type of explanation or learning experience."
As an avid hiker and traveler, Tess was eager to find work that would allow her to make a positive environmental impact while also leveraging her STEM skills and visual knowledge. "EarthShift Global checked every box, and I'm most excited to be able to use both the analytical and creative sides of my brain," she observes.