Our Journey with BioGals – Creating a Non-Profit to Build Waste-to-Energy Systems in Central America
We take great pleasure in highlighting inspiring work by sustainability practitioners.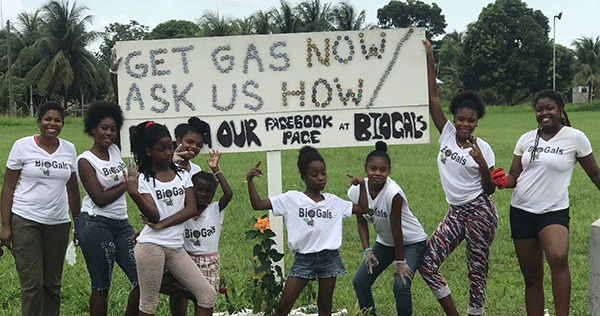 Our Journey with BioGals – Creating a Non-Profit to Build Waste-to-Energy Systems in Central America
We take great pleasure in highlighting inspiring work by sustainability practitioners. This guest blog features the innovative BioGals, who came to our attention via our Senior Analyst, Valentina Prado, a former colleague of BioGal, Evvan Morton at Arizona State University.
Dr. Shakira Hobbs, Assistant Professor at the University of Kentucky, and I, Evvan Morton, a PhD student at Arizona State University, are the co-founders of the non-profit organization BioGals. Our journey towards starting BioGals began when we met as PhD students at Arizona State University (ASU).
As fellows of the National Science Foundation's Integrative Graduate Education and Research Traineeship, we were awarded funding to complete a collaborative research project of our choice. Our shared passion for increasing sustainability in developing countries led us to begin a research project in Sittee River, Belize. The ongoing project uses anaerobic digestion as a sustainable waste management strategy to reduce the village's traditional methods of burning waste, burying it, or throwing it into the river. Anaerobic digestion converts organic waste into biogas that can be used for cooking and generating electricity.
Our first trip in June of 2015 consisted of interviews with community members to better understand their energy needs, waste management techniques, and standard of living. Survey results indicated that 75% of the population purchases butane for cooking. In addition, 72% burns their waste and 22% both bury and burn their waste. Despite all community members having access to electricity, 12% of the population rates their standard of living as poor. Meetings with the village council indicated that converting waste to energy could be a great economic benefit to Sittee River.
We have returned to Belize several times since 2015, adding two more members to our research team. After conducting a waste audit and proving the feasibility of anaerobic digestion in the village, the village council gave us permission to build an anaerobic digester in July of 2017 with the community. The community members developed many ideas to utilize the fuel and by-product from anaerobic digestion. The fuel can be used to cook school lunches and the biosolids can be used as fertilizer to start a school garden. The food grown in the garden can be used for the school lunches or sold throughout the village. The fertilizer could also be sold to local farmers. Furthermore, the maintenance and use of the anaerobic digester will provide new jobs for the community.
Our many trips to Belize created a trusting relationship with the village council and community members. During the Sittee River council meetings, it was agreed that an anaerobic digester would be a good idea for sustainable waste disposal. Anaerobic digestion is an attractive technology given its ability to allow community members to generate their own cooking fuel and stimulate economic development. Future visits to Belize will continue to further establish our relationship with the community, build the final digester, and provide education for sustainable waste disposal.
While developing the anaerobic digestion system, we also spent time teaching local students about sustainability and engineering design concepts. We realized that it was very uncommon in the village for two black women to be teaching engineering and leading a STEM project. The community members were used to seeing white men and women doing this type of work. Already being aware of the lack of students of color that study abroad and the lack of women of color in the STEM fields, this experience inspired us to do more to advocate for women of color in these roles. Thus, BioGals was born.
BioGals is a non-profit organization dedicated to increasing the visibility of women of color conducting sustainability research in developing communities. We are passionate about increasing the number of women of color in STEM fields and empowering them to pursue research projects abroad. BioGals uses human-centered design thinking to incorporate empathy into our research. We make sure to get to know the communities we work with through interviews and building trust before assuming we know what they need. This is has been the key to our success in Belize and has been noted as a key component to creating successful engineering project in other developing countries. We are excited to recruit more women to join our mission and send more engineering students abroad to begin sustainability projects around the world. To connect with us and support our efforts please join our various online platforms.