Making the Rounds at Circularity '22
Making the Rounds at Circularity '22: Collaboration Will be Key to Systemic Evolution
By Sam Boduch, ESG Account Manager & Operations Coordinator
The COVID 19 pandemic has demonstrated that people can be agile, and quickly transition our ways of doing things when conditions warrant. The folks at GreenBiz did just that by moving their 2020 & 2021 Circularity conferences online and then returning to in-person this year in Atlanta for Circularity 22 [https://events.greenbiz.com/events/circularity/atlanta/2022], which I had the pleasure of attending.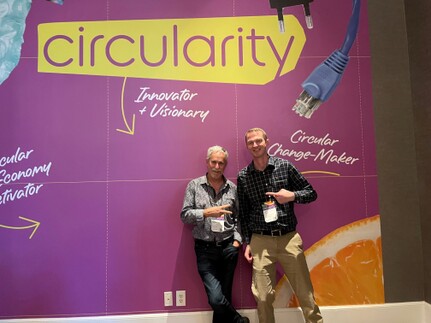 The many stories shared during the conference gave me some fresh perspectives on the life cycle assessment (LCA) and sustainability projects we undertake here at EarthShift Global, and on the fact that, while we've made progress toward a circular economy, there is still much to do. I came away enthused about the prospects for the conference theme of Accelerating the Circular Economy.
My biggest top-level takeaway is that collaboration will be key. Circularity, by definition [https://ellenmacarthurfoundation.org/topics/circular-economy-introduction/glossary], requires system-level adaptation, which in turn means that everyone needs to work together and coordinate individual actions to create a collective success.
In her talk about the need for creating drastically different alternative solutions, Suzanne Shelton [https://www.linkedin.com/in/suzanneshelton/] of The Shelton Group captured something about the nature of the challenge we face by reminding us of a quote about automobile development often attributed to Henry Ford: "If I'd asked people what they wanted, they would have told me a faster horse." Simply put, we need to venture outside the lines of our current systems and apply different kinds of thinking to identify sustainable solutions.
Some tangible examples emerged in a workshop titled Tools of the Trade, where Shaw Industries Vice President of Global Sustainability Kellie Ballew [https://www.linkedin.com/in/kellie-ballew-912077a3/] spoke about the importance of data within its supply chain partnerships. Specifically, Shaw (which develops carpet, flooring, synthetic turf, and other specialty products) has found that it's important to educate suppliers on why Shaw requires information on their materials, and to share with them that Shaw wants to ensure that the products they make deserve to keep taking laps in the circular economy. In some cases where data on the materials did not exist, they've actually paid to have their supplier audited so the materials composition could be verified. Talk about investing in your supply chain!
But it didn't stop there. At one point Shaw identified a harmful chemical used by one of their suppliers and tried to push back. The supplier noted that the same chemical was used in paper towels, toilet paper, and other products, so it wasn't simple to change. What did Shaw do? The company banded together with buyers from those other industries to get rid of the chemical.
Looking downstream, during the Nailing the Narrative breakout session, Paula Alexander [https://www.linkedin.com/in/paula-alexander-4513365/], Senior Director, Sustainability at Clorox, noted, "what we teach the customer matters." Paula urged attendees to work with their marketing teams and encourage them to be bold, and avoid "green hushing" (being afraid to share what they are doing) — in other words, don't hide the sustainability story in the "mouse type" on the back of the label. To this, fellow panel member Ali Mize [https://www.linkedin.com/in/ali-mize-02021252/] Director of ESG, Belonging, & Corporate Philanthropy at Neiman Marcus Group, reminded the audience to make sure that their claims are third-party verified is critical – we couldn't agree more!
Amanda Nusz [https://www.linkedin.com/in/amandanusz/], Senior Vice President, Corporate Responsibility at Target, talked about a lesson learned while working on Target's single-use bag initiative. She noted "the best plan is not to go in with a strong hypothesis but rather view this situation as an opportunity to learn."
And last, for anyone frustrated with our global political climate, Erin Simon [https://www.linkedin.com/in/erin-simon/] Head, Plastic Waste and Business at World Wildlife Fund, shared a reason for hope: In March 2022, members of the United Nations voted unanimously for a Global Plastics Treaty. Why should we think this will bring change? History repeats itself. The Montreal Protocol of 1989 protected the ozone layer by phasing out the use of harmful chemicals, so there is great opportunity to avoid plastic waste.
I left the conference re-energized and ready to engage with our growing community on a systemic level!