Bringing A Renewable Fuel Alternative to Market: How LCA Data Helped Biofine Develop New Technology, Win Industry Support
Over 5 billion gallons of heating oil are burned in the US annually, contributing significantly to greenhouse gas (GHG) emissions and climate change.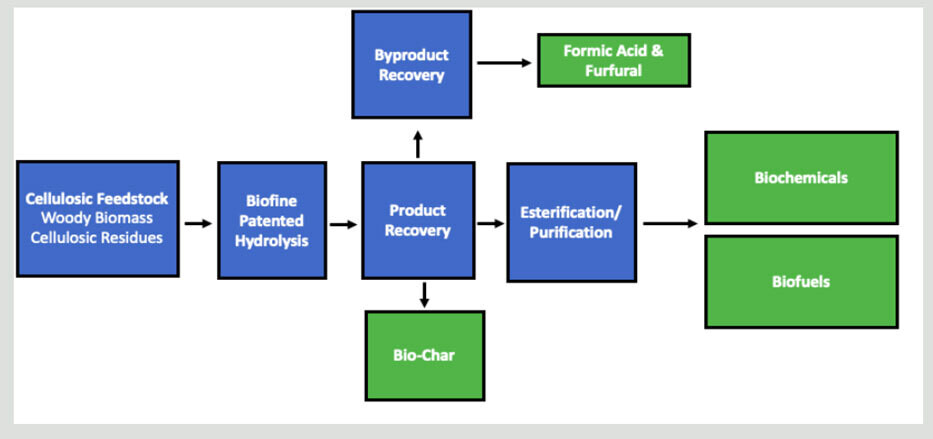 Over 5 billion gallons of heating oil are burned in the US annually, contributing significantly to greenhouse gas (GHG) emissions and climate change. To address these issues, chemical engineer Dr. Stephen Fitzpatrick sought to develop a new biofuel alternative that would reduce the resulting GHG emissions without significant changes in behavior or additional cost outlay by consumers or suppliers.
Biofine Developments Northeast (BDNE), a company founded by Dr. Fitzpatrick, has developed and patented a process for converting cellulose waste into a liquid biofuel alternative, ethyl levulinate (EL). Known as Biofine EL, it can be used in existing oil-based heating systems and delivered through existing supply chains at competitive cost.
To support Dr. Fitzgerald's technology and market development efforts, EarthShift Global consultants conducted two life cycle assessment (LCA) projects that demonstrated that production and use of Biofine EL reduced atmospheric GHG levels, and helped BDNE win support from the home heating oil industry, including buy-in from trade associations and a recent purchase contract with a major energy and service provider in the Northeast. These accomplishments have set the stage for planned launch of at least a dozen production plants with 500 million gallon capacity over the next 10 years. BDNE is also exploring a possible expansion to the production of renewable jet aviation fuel.
Converting Waste Biomass to EL Fuel
The Biofine EL process starts with a variety of different waste biomass residues such as wood chips, sawmill waste, wastepaper and cardboard from municipal solid waste (MSW), and plant residue like bagasse and corn straw. The EL fuel (a biobased oxygenated hydrocarbon) and several useful coproducts are produced via acid-catalyzed hydrolysis of lignocellulosic biomass and subsequent esterification with ethanol (Figure 1).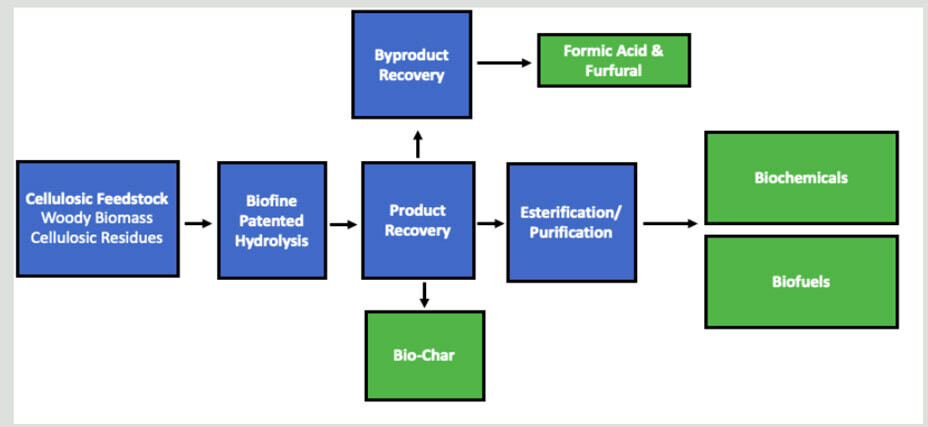 In 2009, Lise Laurin, CEO of Earthshift Global, conducted an initial LCA study of production and use of the EL fuel for transportation purposes ("well-to-wheels"). The study's conclusions indicated that the fuel had a significant negative carbon dioxide profile when used as a substitute for either gasoline or diesel motor fuel. This unexpected result was accepted by the U.S. Department of Energy and encouraged BDNE to pursue commercial applications in several other markets.
One particularly substantial business opportunity was heating oil. The U.S. Energy Information Agency (EIA) estimates 4.5 million households in the northeast US use heating oil as their main source of heat. This represents over 3 billion gallons of heating oil fuel used during the peak heating season from October to March; at an average price of $3.25/gallon, total market demand is over $9 billion.
While renewable solutions are slowly increasing in the region, solar, wind and biofuels are only projected to increase to 10.2% of the total Northeast electrical grid by 2030.
Barriers to the shift away from fossil-based fuels include the price of the energy alternatives as well as the expense and effort to change heating technologies and supply chains. Because Biofine EL can be used in existing oil-based heating systems and delivered within existing heating and oil supply chains, it offers easy uptake for consumers and commercial heating oil users, and heating oil suppliers. Moreover, based on projections of cost of full-scale production, Dr. Fitzpatrick is confident the Biofine EL will be cost-competitive with standard home heating oils.
Developing Data to Win Acceptance
But realization of that potential required data that could help persuade members of the heating oil supply chain of Biofine EL's advantages. To this end, Dr. Fitzpatrick built a collaboration with the National Oilheat Research Alliance (NORA), a Congressionally authorized industry organization funded with a small per-gallon levy on wholesale heating oil sales. NORA sponsored a second LCA project to analyze the "well-to-burner-tip" potential of the Biofine EL production process. It looked at pilot and full-scale output levels using either forest residues or wastepaper from MSW as the primary feedstock input and comparing these results to standard heating oil (ultra-low sulfur diesel) and biodiesel (derived from oil seeds).
The heating-oriented Earthshift Global LCA estimated that, in the non-condensing boiler systems typically used in Northeast homes, net benefit to greenhouse emissions from use of biomass-based EL varies from -8.3 kg CO2e/mmBTU heat to -20.9 kg CO2e/mmBTU, depending on the feedstock used and the size of the EL production plant. These negative values indicate that use of the fuel and its production actually reduce GHGs in the atmosphere. Annualized CO2 savings for a typical household could therefore be as high as 4.5 metric tons per year compared with biodiesel and almost 12 metric tons per year compared with ultra-low sulfur diesel. This is the equivalent of removing two average sedan cars from the roads each year.
These values result from four main sources (Figure 3): credit for the biomass-based carbon dioxide released in the use phase (displacing fossil-derived heating fuel oil in the boiler); credit for replacing higher-intensity grid electricity with the process's surplus electricity (sold to the grid); credit for biomass-based carbon dioxide released during burning of the biomass-derived char for cogeneration in the EL production plant; and avoided emissions from replacing higher GHG intensity routes to co-products such as formic acid.



With the environmental benefits of Biofine's EL product and process confirmed, the company has been able to move rapidly into securing customers and scaling from demonstration to larger-scale pilot production. EL has been successfully tested in residential boilers at blends of up to 10% in fuel oil and at 100% in a range of commercial boilers.
EL's beneficial technical qualities as a heating fuel, including its soot-free combustion and cold-temperature handling properties (freezing point -80 deg.C.), have resulted in NORA, the National Energy and Fuels Institute (NEFI), the Maine Energy Marketers Association (MEMA), and other trade associations significantly supporting and embracing EL as an advanced biofuel.
And in a major milestone in October 2020, BDNE and Sprague, one of the largest independent suppliers of energy products and related services in the Northeast, signed a purchase agreement for the marketing and distribution of Biofine EL.
Forest-Derived Feedstock and Future Possibilities
Also boosting the effort on the supply side was 2019 grant funding for commercializing the EL production process through the Maine Technology Institute's Emerging Technology Challenge for Maine's Forest Resource. BDNE, under the direction of Dr. Fitzpatrick and Chief Development Officer Mike Cassata, has assembled a team, including The University of Maine-Forest Bioproducts Research Institute (UMaine-FBRI) to validate the technology using forest-derived softwood feedstock at demonstration scale. Also, Treadwell Franklin Infrastructure Capital (TFIC) is working as development agent to advance multiple biorefinery projects producing EL and co-products on an industrial scale utilizing Maine's forest residues.
Over the next ten years BDNE is planning to roll out a dozen plants in Maine alone manufacturing over 500 million gallons of renewable heating oil; this would create over 4,000 high paying jobs and represent investment of over $3 billion. This renewable fuel enterprise can generate annual revenues of over $3 billion and savings of over 5 billion metric tons of carbon dioxide – almost two-thirds of Maine's carbon reduction goal.
Longer term, BDNE intends to enter the transportation market where EL offers several potential advantages over conventional diesel and gasoline: low temperature handling (which can help avoid heavy truck idling in winter), lubricity (a problem in ultra-low sulfur diesel), and high octane blend number (eliminating the vapor pressure "spike" associated with ethanol blending in gasoline).
Another intriguing future direction for the Biofine process is potential production of renewable jet fuel. In a parallel development conducted at the University of Maine at Orono (UMO) and funded by the U.S. Department of Defense's Defense Logistics Agency, Biofine's intermediate products are being converted into non-oxygenated jet fuel aimed at meeting stringent military specifications. This development expands the range of fuels that can be derived from renewable cellulosic feedstocks and potentially increases market flexibility for the Biofine process.