A Passion for Ikebana Provides Insights into Sustainability
Literally translated, ikebana can mean "giving life to flowers." But it is far more than that.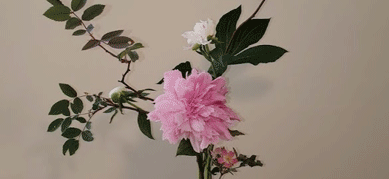 I didn't have a formal background in sustainability when I joined EarthShift Global 5-1/2 years ago, but from the beginning our work has felt like a natural fit — in part because I quickly came to the understand that an important part of sustainability is the active cultivation of broader views and perspectives, and the recalibration of a person's or organization's thinking in a wider frame.
This is something I've always strived for in my own life, and during our recent period of COVID-19 isolation, I've come to realize that there's a parallel with one of my great passions: the Japanese art of flower-arranging, ikebana, which I've practiced for over two decades.
Literally translated, ikebana can mean "giving life to flowers." But it is far more than that.
Ikebana is living in the present moment. It is about honoring nature and the beauty of nature that touches one's heart, in this specific time, season and place. It honors the cycle of life, from birth to death. It honors all the parts of the plant we see above ground: stems, leaves, flowers, buds, seedheads and dead branches.
The deepest roots of ikebana are in Shinto, a nature religion, that believes nature and the natural world are an embodiment of divinity, sacred and with spiritual power. Arranged flower offerings are made in appreciation for the beauty and bounty of nature. Ikebana is also rooted in Buddhism; in that spirit, ikebana is a practice, just like meditation, yoga or the martial arts.
This practice has been especially helpful while self-quarantining during the pandemic here in New Hampshire. In self-isolating ourselves, we are making a similar choice to the monks who helped create ikebana. We, too, go out into our surroundings to gather plant materials for our arrangements. How lucky that we have the opportunity to observe how the plants grow, their shussho or true nature, the characteristics of how they grow. There's an essential minimalism to ikebana, a "less is more" orientation, and the process of seeking out simple little flowers, that many may consider weeds, for my arrangements has helped enhance my sense of sustainability.
On a basic level, finding these flowers in my yard or along the roadside sustains me. And bringing flowers into my home always improves my well-being. More broadly, it's far more sustainable than driving to a store to purchase cut flowers that were grown in a far-off greenhouse and flown here, with considerable resources consumed at each step. Best of all, the local plant material is fresher and far more authentic (and therefore more beautiful) than a greenhouse's uniform flowers, which often lack the leaves needed for a lovely flower arrangement.
So, in a way, the lessons of ikebana are not so dissimilar from the lessons of sustainability thinking: recognize and honor the intelligence and effectiveness embodied in the natural world, work with them to the greatest degree possible, realize that great beauty and true fulfillment can be found when we embrace the natural world, natural cycles and variations.
I encourage you give ikebana a try, as a way of opening your eyes and heart to the simple beauty that nature provides us. There are organizations dedicated to it across the world; as president of our local Ikebana Ikenobo chapter, I created a "Sustainability Series" by teaching the practice of ikebana through video meetings, and you can get a taste of our work in a virtual exhibition that was posted in July 2020 and July 2021.